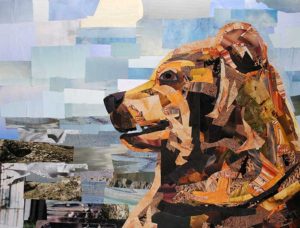 August 2nd – 31st, 2012
City Gallery; North Charleston, South Carolina
Map and Gallery Info
Artist Reception: Thursday, August 2nd
from 5:00 – 7:00p.m.
Animals are one of Megan Coyle's favorite collage subjects. While growing up, she was drawn to nature and liked visiting wildlife parks and the zoo. Now Coyle continues to visit those places, although this time she goes to find inspiration for future works of art.
"From Fur to Feathers" featured several of her animal collages, including a few new collages that were completed in 2012. It showcased a body of work that focused on the diversity of creatures that live in the natural world.
Coyle's exhibit, "From Fur to Feathers," was one of two solo exhibits on display for the month of August at the North Charleston City Gallery. (Note: Initially this exhibit was described as a two-person show, although it is actually one of two concurrent solo shows)