Megan Coyle is an artist and illustrator who resides in the Washington, D.C. area. She takes common, everyday magazines and turns them into works of art. She creates portrait, animal, landscape, and still life collages.
Coyle has exhibited her artwork at the Ward Museum, Smithsonian Ripley Center, Art League Gallery, Krempp Gallery, and other galleries around the country. She has been internationally published in publications that include the Washington Post, Somerset Studio, and Papirmasse. Coyle is also the author and illustrator of the children's book Duck & Fish.
---
In the Studio: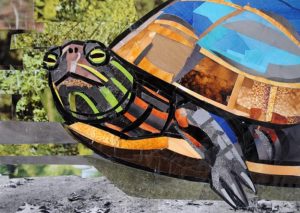 He's Wearing a Turtleneck
This was my first attempt at collaging a close-up of a turtle. I have to admit that this little guy
Read more.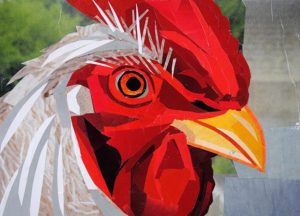 The Rooster of Crowsville
And now for a slightly different collage – a close up of a rooster! Roosters are rather peculiar looking birds
Read more.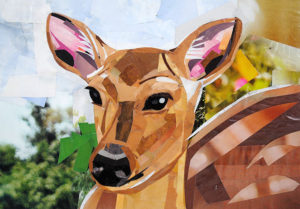 Oh Dear, a Deer!
This is an example of a collage where I wasn't wild about it, but decided at some point you just
Read more.
view more
---
Resources for Artists & Creatives:
view more
---
Interviews & Talks:
view more
---
The Adventures of Bosty:
Bosty goes to Oxford
So what's next on Bosty's trip? Wandering the streets of Oxford. He figured that after seeing Cambridge, he might as
Read more.
Bosty goes to Cambridge
After a trip to Brighton, Bosty decided to head over to Cambridge to take a look at the sights over
Read more.
Bosty goes to Brighton
Bosty has been off on another adventure with a trip to England. His first stop? Brighton to run down the
Read more.
view more