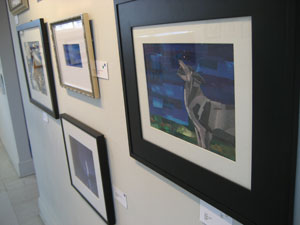 Would you like to own your very own custom work of art? If so, just take a look at the list below before placing an order.
Browse through Megan's artwork.
Look through the online galleries to get an idea of the type of work Megan does. You can also let her know if there's a particular piece that's similar to what you have in mind.
Find reference photographs.
Find an image of the subject you'd like Megan to collage. You'll need a primary image as well a couple of additional photos so she'll have more references. If you're not sure which photo to use as your primary image, Megan can help you choose one.
Pick the dimensions.
Decide what dimensions you'd like. Megan prices her artwork based on size and the amount of detail involved. For more information on prices, consult her pricing page.
Contact Megan.
You can submit your request by filling out the contact form or sending an email to Megan at megan@mcoyle.com with "Commission Work" as the subject. After sending your request, Megan will contact you regarding the project.
If you have any questions about the custom made art process, feel free to send Megan an email.
---
Additional Information: